Covid 19 Impact in the technological sector.
These are unprecedented times as various sectors adapt to a new way of life whilst Governments around the world are faced with a dilemma to mitigate the economic effects of the virus whilst abiding to the guidelines set out by the health authorities.
The IT sector has grown to represent 6.6% of the GVA generated by the Maltese economy in 2017, currently the industry is represented by more than 300 companies, employing over 7,300 persons. What is being observed in the market internationally that is having an effect on the market locally? 
Below we wish to summarise the industries that Newtech are directly involved in. 
I.T Hardware & Distribution 
Shops all over the island have had to switch their business models, with a sole focus on e-commerce and deliveries, since physical stores have closed. The focus is on ensuing timely delivers to customers purchasing online. International distribution has also tightened due to the virus and products are generally taking longer to arrive, therefore purchasing managers are faced with key decisions on which items to keep in stock and at what risk. This  may have a direct effect on the consumer who can purchase through international market places such as online vendors or similar, for items not available locally.
Internationally there are similar problems in the market, In the U.S According to CNBC 51.6 million PC units were shipped in the first three months of the year, down 12.3% from the previous year. It marks the biggest fall in shipments since 2013, and follows three consecutive quarters of growth for the market, showing that the downward trend is due to corona-virus market volatility. According to IDC, our partners Lenovo Group Ltd. 992, +2.68% shipments fell 4.3% year-over-year to 12.8 million units & Acer Group shipments fell 9.9% to 3.4 million units.
Software Licensing & Asset Management 
When this crisis began, companies were faced with no option but to adjust to home circumstances. This new world means that companies are looking to increase their remote working capabilities, which has led to a number of changes in the market.
Microsoft reported in mid-March its Teams collaboration software had spiked to 44 million daily active users. That was up from 20 million in November, adding 12 million new users in the week prior to the announcement.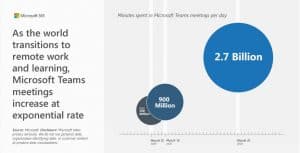 Microsoft Minutes Spent on teams per day, full report: 
https://www.microsoft.com/en-us/microsoft-365/blog/2020/04/09/remote-work-trend-report-meetings
Whilst Altassian stock and Slack Technologies both rose and stand-out as enterprise software companies who are outperforming despite corona virus driven market volatility. Throughout March, we witnessed a record high stock rise for conference calling applications such as Zoom, who have rose up by 117%, with schools, universities & businesses' making use of the service to continue operation. 
Software Licensing stocks seem to be performing well in the current climate as shares in cloud based solutions have also hit new records. As companies look to shift online we have seen an increase in licensing applications, however this can be seen as marginal as companies look to utilise the resources only available to them in order to save costs and not shift to new products or tools.
Cyber-Security
As companies shift online to cloud and remote working resources, the importance of cyber-security has increased. Cyber attacks are on the rise with a number of phishing attempts being disguised as COVID related news. Security analysts, are working around the clock to ensure the safety of companies' data due to the prevalence of hackers during this period. Companies are starting to realize the importance of online security and are therefore more willing to look at high end solutions. Having said that, security budgets have been slashed in many cases due to operational costs, and even if companies wish to commit to long term solutions, they may no longer have the budget in place to do so. 
Within the cyber-security realm a number of high values companies are privately listed, however publicly stocks have fallen as operational budgets are cut due to the current crisis. Within the local market, more awareness is still needed on the importance of Cyber-security and how it can safeguard business. However, companies are starting to realize the importance of having such tools in place. 
Conclusion
In conclusion, the market has changed drastically and distribution is focused around the needs of business. As Hardware distribution declines, software licensing seems to have risen, and companies are starting to take note of the importance of investing into solutions that can improve productivity. Cyber-security is also important in order to safeguard the increasing number of data online. However one common issue remains, and that is revenue. As Business continues to loose revenue, investment into technology is set to damper.