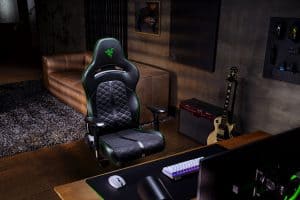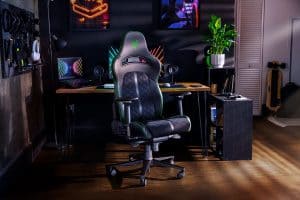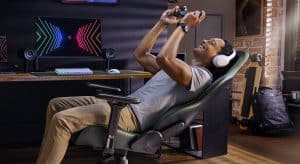 Razer Enki Gaming Chair: All-Day Gaming Comfort, Integrated Lumbar Arch, Optimized Cushion Density, Dual-Texture, Eco-Friendly PU Leather, Reactive Seat Tilt, and 152-Degree Recline. This chair is ideal for long-time PC users for both Gaming and Office use.
Designed for all-day Usage: 110-degree shoulder arches and a wide 21.3-inch seat base ensure optimal weight distribution for long-lasting comfort during gaming marathons.
Integrated Lumbar Arch: Feel less fatigued over long periods with the lumbar curve that gently supports the lower back and encourages sitting in a neutral position.
Optimized Cushion Density – Unmatched comfort with a softer seat base for a more comfortable feel and a firmer seat back for solid support.
Eco-friendly, dual-texture faux fur: The central areas of the chair are covered with a piece of plush, textured fabric for more refined comfort, while the outer edges are lined with soft leather to withstand daily better wear and tear.
Responsive seat tilt and 152-degree recline: Effortlessly lean back in the seat thanks to a responsive mechanism that reacts to your weight, and recline as far back as you like with up to a 152-degree adjustable recline.
4D armrests: adjust the height of the armrest and move it forwards or backward for a position adapted to the way you sit.
PREMIUM MEMORY FOAM HEAD CUSHION: Plush cushion is included that can be molded to the shape of your head and neck, providing comfortable support to those key areas.